Tub to Shower Transformation: Revitalize Your Bathroom in Just One Day
At Affordable 1 Day Baths, based in Corinth, Texas, we specialize in making your bathroom a sanctuary of comfort and elegance. One of our most sought-after services is our Tub to Shower transformations, a bath conversion process that not only updates the look of your bathroom but enhances its functionality. Here's everything you need to know about our Tub to Shower transformation service:
Why Choose Tub to Shower Transformation?
Converting your tub to a shower isn't just about following a trend; it's about creating a space that fits your lifestyle. Here's why:
A Modern Touch
A shower space gives your bathroom a sleek and modern look. Our bath conversion to a shower can transform an outdated bathroom into a stylish space that reflects contemporary tastes.
Space Efficiency
Tub to Shower conversion is perfect for bathrooms of all sizes. It's a clever way to make small bathrooms appear larger and ensure that large bathrooms look organized and uncluttered.
Safety and Accessibility
Our Tub to Shower transformations provide easier access, especially for those who find stepping into a traditional bathtub challenging. Our designs focus on safety, incorporating non-slip floors, grab bars, and other features that make your shower user-friendly.
Energy and Water Efficiency
With our Tub to Shower conversions, you can also enjoy energy and water savings. Showers often use less water than baths, contributing to a more sustainable living environment.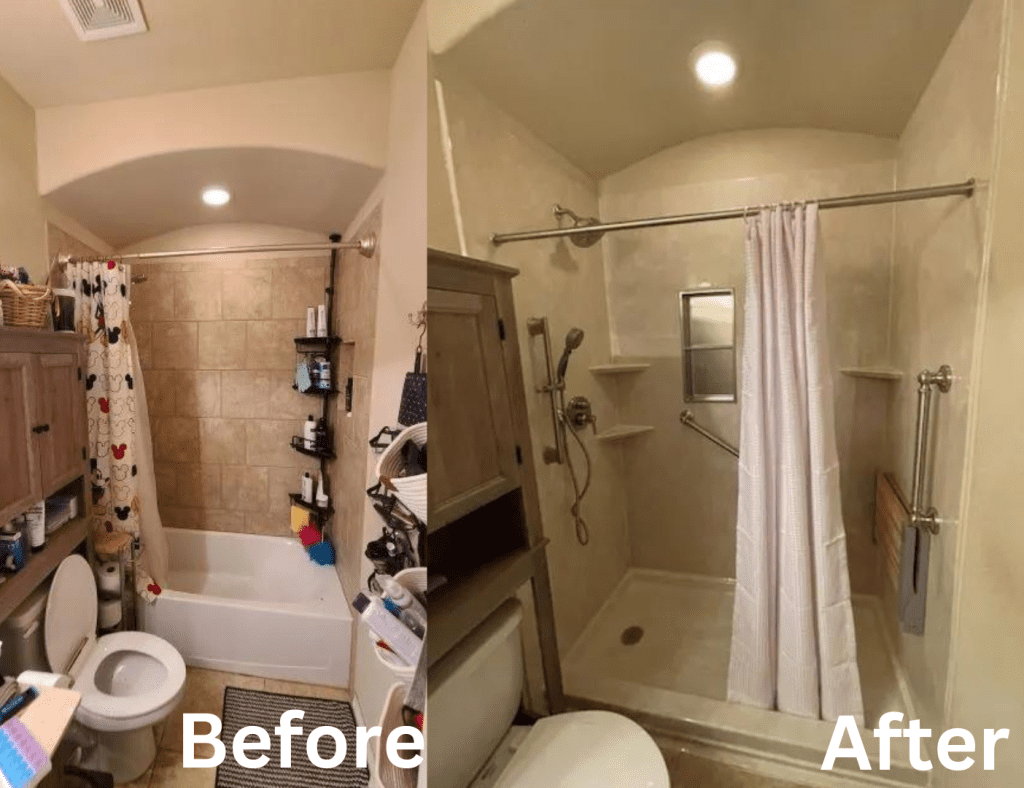 The Affordable 1 Day Baths Process
Our Tub to Shower transformation is renowned for its efficiency and quality. Here's what you can expect:
Consultation
We begin with a free consultation to understand your needs and preferences. This is where your dream bathroom starts to take shape.
Design and Customization
Our expert designers will work with you to create a shower space that meets your unique style and functionality requirements. From fixtures to finishes, everything is tailored to you.
Efficient Installation
We value your time. Our skilled technicians ensure that your Tub to Shower conversion is completed in just one day without compromising on quality.
Guaranteed Satisfaction
Your satisfaction is our top priority. We offer warranties on all our work, ensuring that your new shower space stands the test of time.
Benefits of Choosing Affordable 1 Day Baths
Expert craftsmanship and attention to detail
Wide range of design options to suit all styles
Use of high-quality materials
Competitive pricing
Professional and courteous service
Ready to Revitalize Your Bathroom?
Your dream bathroom awaits! Let Affordable 1 Day Baths help you transform your tub into an elegant shower space. Contact us today to schedule a free consultation and take the first step towards a beautiful, functional, and modern bathroom. Embrace the Tub to Shower transformation and revitalize your bathroom in just one day!
Contact Affordable 1 Day Bath
We're always ready to assist you. Give us a call or fill out a form to get started!